Bacterial security agents go rogue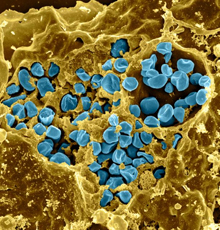 F. novicida and F. tularensis (blue in this
electron microscopy image) are bacteria
that live inside mammalian cells.
In F. novicida, a genetic defense system
used by other bacteria to defend
themselves against phages has acquired
a distinct function not seen before:
evading the host's immune system.
CRISPR, a system of genes that bacteria use to defend themselves against viruses, has been found to be involved in helping some bacteria evade the mammalian immune system.
"CRISPR systems are bacterial defenses, but we've found that bacteria can use them offensively to hide from the host immune system and cause disease," said David Weiss, PhD, assistant professor of medicine (infectious diseases) at Emory University School of Medicine and Yerkes National Primate Research Center.
The results were published April 14 in Nature.
CRISPR is itself a sort of immune system for bacteria. Its function was discovered by dairy industry researchers seeking to prevent phages, the viruses that infect bacteria, from ruining the cultures used to make cheese and yogurt. Bacteria incorporate small bits of DNA from phages into their CRISPR region and use that information to fight off the phages by chewing up their DNA.
Now scientists at the Division of Infectious Diseases of the Emory University School of Medicine and the Emory Vaccine Center have shown that Francisella novicida, a close relative of the bacterium that causes tularemia, and another bacterium that causes meningitis, need parts of the CRISPR system to stay infectious. F. novicida, which grows inside mammalian cells, employs parts of CRISPR to shut off a bacterial gene that would otherwise trigger detection and destruction of the bacteria by its host.
Because disabling CRISPR creates a weakened bacterial strain that is easily recognized by the immune system, the finding could accelerate vaccine development. But it is also a broader reminder that in biology, defensive tools can be co-opted for purposes of stealth.
Read the full article in online in the Emory News Center.