Early lifestyle intervention could lower risk of gestational diabetes for at-risk pregnant women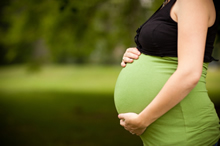 Guillermo Umpierrez, MD, professor of medicine in the Division of Endocrinology, discussed the results of a study at Grady Memorial Hospital suggesting that a lifestyle intervention implemented in the early stages of pregnancy may lower risk of gestational diabetes for at-risk pregnant women.
More than one-third of women of reproductive age in the United States are considered overweight or obese. Tipping the scales before pregnancy increases a woman's risk of developing gestational diabetes, which, in turn, increases the risk of maternal and fetal complications and type 2 diabetes after pregnancy.
Minority women in particular are at greater risk for gestational diabetes because of genetic background (susceptibility or family history), and in addition to entering pregnancy heavier they often gain more weight than their white counterparts.
"We know lifestyle interventions promoting healthy diets and physical activity are effective in improving insulin sensitivity and in reducing the risk of developing type 2 diabetes," said Umpierrez, who is also chief of diabetes and endocrinology at Grady Memorial Hospital. "But whether the same effort would improve response to pregnancy-induced insulin resistance has been unclear."
Read the full story online.